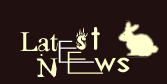 January 29, 2003 If you're making a return visit to this site, you'll notice that some things are missing. I've scaled it back a bit because I can't afford to pay for more bandwidth, but I want this increasingly popular site to remain available to all of you dedicated freaks out there. Maybe once the initial cable viewings slow, fewer people will use up my bandwidth, and I'll be able to put the gallery and such back up. Enjoy it while it lasts!
September 30, 2002 Dark Horizons today reported that Donnie Darko will "finally get an Aussie release on October 17th at Hoyts Broadway in Sydney."
November 18, 2001 More from Wally:
I saw the film again, and for the total completists out there (like me) there is one more song listed in the credits: "Proud to Be Loud" performed by somebody called the Dead Green Mummies. Preliminary research indicates it is a cover of a song by the '80s heavy metal band Keel. I guess that would be the song playing at the Halloween Party-- really just in the background as opposed to the other songs in the movie. In order of appearance then it would be just before "Love Will Tear Us Apart".
November 17, 2001 According to the DD mailing list: "The soundtrack will be released in December. DVD plans are in the works."

Thanks to Wally for sending the following:
"The Killing Moon" by Echo & the Bunnymen
"Head Over Heels" by Tears for Fears
"Notorious" by Duran Duran
"Love Will Tear Us Apart" by Joy Division
"Under the Milky Way Tonight" by The Church
The cover of "It's a Mad World" originally by Tears for Fears
I put 'em on a mix CD, making my own "soundtrack"-- though I wish I had the cover of "It's a Mad World". I added "Never Tear Us Apart" by INXS and on the same note "Just Like Heaven" by the Cure, as I read on some Cure fansite that somebody saw a film-festival cut with that song in it during "an intense love scene"-- maybe it was once in use instead of "Love Will Tear Us Apart"? Do you know?
November 1, 2001 More reviews are up. And if anybody out there bothered to note all of the songs that are used in the film, I'd love to have a list of 'em.

From Lane Kelly:
If you get the Sundance channel (or know someone that does), be sure to watch "Anatomy of a Scene" this Sunday at 7:30 EST. They will be documenting how that [first high school] scene was shot, etc. Should be a great show.
October 30, 2001 No, I don't know when/where the film will be more widely distributed. Oh, and someone wanted to know if there's gonna be a novelization or publication of the script or anything like that. If you know, please e-mail me.

Lane Kelly says:
I'm almost positive they have a soundtrack deal. When it comes out, I don't know. Richard did do a video for the Mad World remake. Who knows if it will ever see the light of day on MTV or VH-1.

Nigel Floyd says:
Just a quick note to say that Donnie Darko - which I caught at the Sitges Film festival in Spain in October - will be screened twice during the London Film Festival. The dates and times are as follows:

Saturday 17 November at 3.15 pm

Tuesday 20 November at 12.30 pm
As the film currently has no UK distributor, these may be the only chances that British movie-goers will get to see the film on re big screen, where it belongs.
October 26, 2001 More articles and reviews are up. Keep submitting your fan reviews here, and reading others' reviews over here.
October 25, 2001 Once you have seen Donnie Darko, please submit your review of the film here. Do Not e-mail your review directly to me. Reviews submitted through the above form will be posted on the Fan Reviews page of this site. Works by the reviewing press will continue to be available in the Articles section.

I've updated the gallery & articles.

Some more from Lane:
The INXS song "Never Tear Us Apart" was used in the Sundance cut of the film. It was determined that it was too expensive to use, so the cut that will be released to theaters this Friday has a different song, "The Killing Moon," by Echo and the Bunnymen.
There are some GREAT reviews out in LA Weekly, Village Voice, and The Onion. You might want to warn people that the LA Weekly one has some plot spoilers. Audience reaction last night in San Diego, Chicago, and other cities (at advance screenings) was great.

And something from Sarah:
I started a group to talk specifically about the "mystery" at the www.donniedarko.com site.
http://groups.yahoo.com/group/DonnieDarkoPuzzle
If you are making progress, I could use the help!!
October 24, 2001 A press release and something from today's Times are available in the articles section. New images are available. Assets Depot has some fun files you might want to check out.
A free screening is being held tonight in LA. Print out your pass here: Campus Circle, and arrive early.

Finally, I've received another music question: Can you tell me the name of the song with which the movie opens and who sings it?
Anyone? Anyone? Bueller?
--> Matt C. says: INXS - Never Tear Us Apart
October 20, 2001 Direct from 'on high' for anyone else who'd car to know: The music in the trailer is Michael Andrews' original score from the film. To answer your question, the cover of "Mad World" is performed by Gary Jules and Michael Andrews. Michael Andrews is the composer of the score for "Donnie Darko".
October 19, 2001 Ok, not much. The promise of promotional materials sometime soon for me to share with you, and another question for anybody out there: Who's responsible for the music in the trailer? I haven't seen it yet, so I have no clue, but some people have been asking. Anybody who's seen the trailer and knows, please share, k? K.
October 15, 2001 On the 13th, Lane sent lots more info to the DD mailing list. There's so much, the e-mail has its own page here.

Also on the 13th, Krystle sent the following to the mailing list:

In the 11/01 issue of Jane w/ Carmen Electra/Dave Navarro on the cover there is a little blurb on Donnie Darko on page 174.

"it's 1988, and Donnie darko (Jake gyllenhaal) sleepwalks in his o.p.t-shirt into the bathroom to talk to his imaginary friend, a bully bunny called frank. the problem starts when the psycho roger rabbit saves Donnie's life one night. in return, frank expects Donnie to slowly terrorize the 'hood under a sleepwalk trance. his mom is scared. the shrink and his Prozac aren't working, either. what do u expect from a kooky decade that gave us star search, the smurfs and dukakis? if I say any more, I'll spoil your nail-biting tension. drew barrymore's flower films proves it can produce some serious stuff. and props to Jake for his long-overdue comeback after October sky."
October 12, 2001 Today, Lane sent out the following:

There is a terrific article in the new Film Comment magazine about Richard and Donnie Darko. It is the Sept./Oct. issue, and I think you can find it at Borders bookstore.

The article is 2 pages long (starts on page 16), and it has a nice summary of the film and a few pictures.

If you are interested in the movie, it is worth checking out.
October 10, 2001 On Thursday, I received the following:

The first phase of the Donnie Darko site is up and running.

It is an interactive game that requires the use of your keyboard as well as mouse.

There are passwords. In phase one they are "Sparrow" and "Smurf"

RK

On Monday, Lane Kelly sent out this:

Once again, this is just stuff from the grapevine...

1. Television commercials for the film should start approximately this weekend. Channels that could be running the ads: TNT, MTV, VH-1, and the E! network.

2. According to Richard, they are now going to have a real "premiere" of the film in Los Angeles on Oct. 22. Supposedly, Drew Barrymore has agreed to participate. Too bad it's such short notice - I'd love to be there.

3. There is potential for a music video for the remake of "Mad World" from the film. If it gets the green light, it will feature many clips from the film, and it will be put together over the next few weeks.

4. If I understand the countdown on the website, another part of it should become active in the next day.

Hope that helps...

Hey, anybody know which theatre the premiere's gonna be at? It'd be fun to drive over and check out.
October 4, 2001 Lane Kelly sent the following on September 28:

This information isn't 100% verified, but here's what I have been told:
1. The trailer for Donnie Darko is finished, with some last minute edits as a result of the recent events in New York.
2. As of now, it is being shown in front of "Hedwig and the Angry Inch" (also a Sundance 2001 film) and "Happy Accidents" in New York and Los Angeles.
3. Very soon, it will probably be shown in front of those two films in the following markets: Washington DC, Boston, Seattle, San Francisco, Philadelphia, and Chicago. I'm not completely certain about some of these cities, so that list may change slightly.
4. In the next few weeks, the trailer should be shown in front of some additional films in these cities.

Also some additional notes:
1. They are working on the official website and hope to have it done soon. Expect it to be very interesting/creative/thought provoking.
2. The official movie poster is very similar to the one used at Sundance. Except for a few small modifications, the rest of the layout remains intact.
3. The October 26 release date is set. Expect roughly 175 theaters initially, with more to be added as weeks go by.

Hopefully I'll have more concrete information (and official Newmarket press releases will follow) later on.

Plus, Seth Rogan is going to be on Craig Kilborn's show tonight.
September 9, 2001 There's now a photo in the Gallery of James Duval's character!
August 18, 2001 First Entertainment Weekly has a little blurb in their August 24th issue about Newmarket releasing Donnie Darko in the US this October 26th!

Also, on Wednesday, the 15th, Richard Kelly was nice enough to give me the following info:
We've been busy finishing the film. Release date of late October seems very likely.
To answer your question, the cover of "Mad World" is performed by Gary Jules and Michael Andrews. Michael Andrews is the composer of the score for "Donnie Darko".
August 13, 2001 Not 'news,' really. Just a question. Mirko wrote to me wanting to know "who´s singing that version of "mad world" (usually by tears for fears) that is playing during the credits" of Donnie Darko? Anybody who's seen the film and knows, please let me know. Thanks. : )
July 22, 2001 On Wednesday, Lane, Richard Kelly's brother, posted the following to the Yahoo! Donnie Darko mailing list:

List traffic seems to have died out, but that's probably a result of no news on the movie front.
Here's a little bit:
1. Newmarket is the distributor. They are the company behind the Sundance hit (and profitable national release) Momento. If you haven't seen Momento, check it out. Very good film.
2. Post production work is being done now with some tinkering with the music.
3. They are still working on details of the release, but the weekend of October 26 is a possibility. If it does well, it could spread to more theaters nationwide after that.
Nothing too earth shattering there, but for those of you interested in seeing Donnie Darko, maybe that will help.
May 10, 2001 Please Stop e-mailing Newmarket! Yesterday, Richard Kelly e-mailed me to say that they have bought Donnie Darko, and the hundreds of messages you lovely people sent are causing server problems for Aaron at Newmarket. As soon as a release date is set, Richard Kelly says he'll send that info to me so I can let all of you know.
April 24, 2001 If you want to see Donnie Darko in theatres, e-mail Newmarket. The film's writer/director, Richard Kelly, says that he's negotiating with Newmarket, and thinks that your e-mails could encourage Newmarket to release Donnie Darko. You can make a difference!
April 23, 2001 No, I don't know when the movie opens. But I e-mailed the director today, so maybe I'll know something soon. Just wait, k?
February 9, 2001 Lane Kelly, Richard's brother, posted the following at the DD Yahoo! Club yesterday:
"1. The film is very good. Great use of music, fun story, good acting (especially by Jake, Holmes Osborne, and Beth Grant), and very detailed/deep. You need to see it twice to hope to catch all the 'stuff.' Maybe even a third time. Also, many FUNNY scenes. A few inside jokes that only a few people will get, but they don't detract from the movie at all.
"2. Richard was really impressive answering the questions at Sundance after the screening. It makes you appreciate the film even more. It was by far one of the most entertaining films at Sundance - some of the films there were painful to sit through. Someone will need to explain to me the hype about 'The Deep End.' I found that film average at best. 'My First Mister' was great and should earn a nice profit considering its budget.
"3. They have made some cuts (for time/maybe clarity) and are hoping to screen a new print next week. There's going to be loads of extra stuff for the DVD if it ever happens.
"4. Party with the cast/crew was fun. Most of the cast was there and all very nice. All seemed to really enjoy doing the film and were complimentary of the director. Beth Grant told me 'I've been in over 40 films and he's the best director I've ever worked with.' Jake's an incredibly nice kid (well, guy - he's not really a 'kid' now).
"5. Steven Poster is an awesome cinematographer and deserves a lot of credit for the end product. He also gave at least 5 of us the cold he had before he skipped town :).
6. Soundtrack should be pretty neat if it comes out. All I have now is the 'napsterized' bootleg version I created from memory. Nice job by Michael Andrews on the tunes, especially the closing song (a cover of Mad World by Tears for Fears).
"That's about it... "
January 30, 2001 Hey, this site just got its 5000th unique hit! Precisely 8 months after it started. You're such a good site; I'm so proud.
Thanks to everyone who visited, especially lucky #5000, whomever you are.
: )





---
Older News
If you have some Donnie Darko news that you'd like to share, please send it my way.