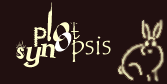 From what I've read so far, "[T]his [is] the story of 16-year-old Donnie Darko, as seen through his eyes, which includes several visions influenced by fantasy and science fiction."
Donnie Darko is "a period 80s/coming of age/science fiction/Hitchcockian ghost thriller/ensemble suburban satire about the death of the Reagan era, an American family torn apart, and a young genius touched by the hand of God in a 28 day odyssey of self-destruction/self-discovery." Donnie has a love interest, "lives on any ol average street in America. He has a regular nice ol family. He's on medication. He's been in trouble before, but he really really wants to be a good kid. However, he sleep walks, talks to an imaginary bloody 6ft tall rabbit-costumed guy without one of his eyes. And this rabbit asks that he do things."
"After barely surviving a freak accident, Darko is given 28 days before he will have to relive the same accident..."
The film is budgeted between $5-10 million, has a contractual R rating and 2hour 5minute running time.